11 Nov
Brenda Casey
Comments Off on No Turkey Turkey by Christina W of Seattle, WA
Because we have a few vegetarians in our family, I'm going to be serving a "No Turkey – Turkey" this year along with all the traditional foods you'd expect for a Thanksgiving dinner. And if you're wondering what a "No Turkey – Turkey" is, fear not; the recipe is right here.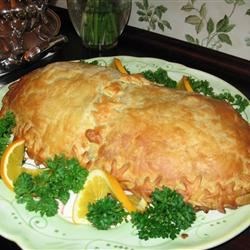 No Turkey Turkey
2014-11-11 09:58:06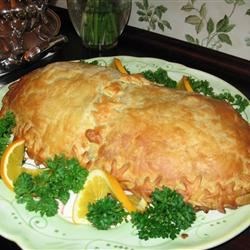 Serves 12
This vegetarian treat is a beautiful addition to the Thanksgiving holiday table. My family has been making it for years. You won't even miss the turkey! For a shiny crust, brush pastry lightly with soy milk. To serve, cut straight down through pastry, stuffing, and seitan to make neat 1/2 inch slices. Spoon additional gravy over each serving.
Nutrition Facts
Amount Per Serving
Calories 662
Calories from Fat 240
Trans Fat 0g
Polyunsaturated Fat 6g
Monounsaturated Fat 12g
Total Carbohydrates 68g
23%
Sugars 7g
Protein 36g
* Percent Daily Values are based on a 2,000 calorie diet. Your Daily Values may be higher or lower depending on your calorie needs.
Ingredients
2 (1 pound) loaves multigrain bread
2 tablespoons margarine
2 carrots, minced
2 large stalks celery, minced
1 onion, minced
1/4 cup chopped fresh parsley
1 teaspoon crumbled dried sage
ground black pepper to taste
5 1/2 teaspoons egg replacer (dry)
1/2 cup water
1/2 cup vegetable broth
2 (16 ounce) packages chicken-style seitan, cut horizontally into 1 inch thick strips
1 cup garbanzo bean gravy
1 (17.5 ounce) package frozen puff pastry, thawed
Instructions
Tear bread into 1-inch cubes and place into a large bowl. Let bread dry in the bowl, uncovered, at least 8 hours.
Melt margarine in a large skillet over medium-high heat. Stir in carrots, celery, and onion. Cook and stir until the onion has softened and turned golden brown, about 10 minutes. Scrape onion mixture into the bowl with the dried bread; season with parsley, sage, and pepper. Whisk egg replacer, water, and vegetable broth in a small bowl until smooth. Pour over bread cubes and gently fold until evenly mixed. Let stand 30 minutes to allow bread to absorb the liquid.
Preheat an oven to 400 degrees F (200 degrees C). Line a baking sheet with aluminum foil and coat with nonstick cooking spray.
Brush seitan with gravy on both sides; arrange overlapping slices on foil in a row, mounding in the center. Press stuffing mixture around seitan to cover. Wet hands lightly and press into a neat oval. Roll pastry sheets out to 1/16-inch thickness; arrange, overlapping slightly, to make a large rectangle. Seal edges with dabs of cold water. Drape pastry over mound; trim excess away from bottom. Use scraps to cut out decorative shapes (leaves, apples, etc). Attached with dabs of cold water.
Bake until the pastry in deep golden brown, 1 to 1 1/4 hours. Cover the pastry with aluminum foil if it begins to brown too much.
Notes
You might enjoy her garbanzo bean gravy recipe here > http://allrecipes.com/Recipe/Garbanzo-Bean-Gravy/Detail.aspx
Adapted from Foodnetwork
Portland Oregon Plumber http://www.caseysplumbing.com/